What's Missing from the Lathrop Plan?
Today's blog is penned by Julie Elena Brown, Co-Director of our Public Housing program and Senior Staff Counsel, and is part of an ongoing series of posts designed to provide insights and opinions directly from the desks of BPI staff and supporters.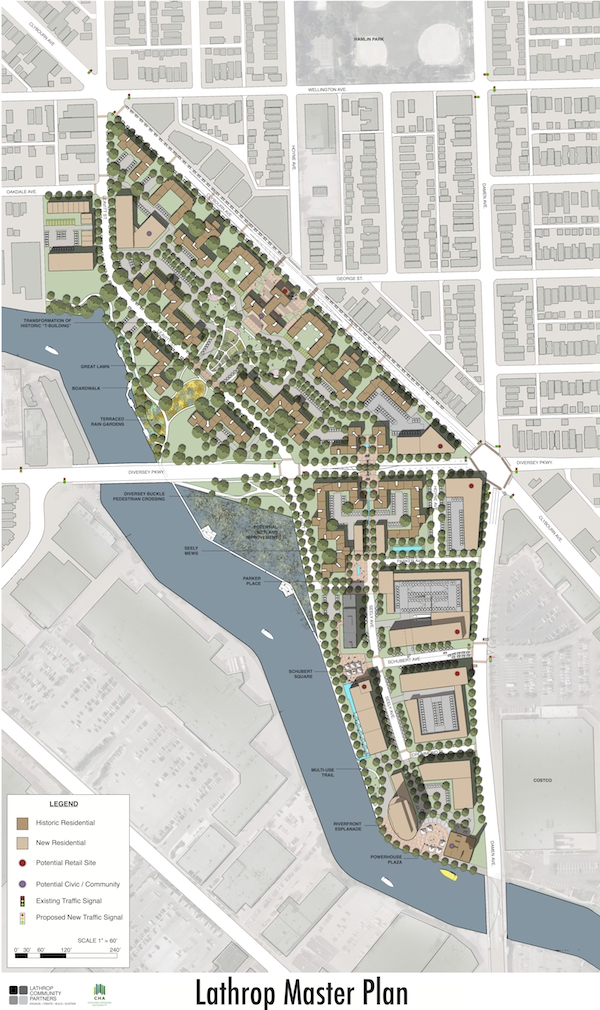 The plan for redeveloping Lathrop Homes continues to stimulate conversation and controversy. As a participant in the Lathrop Working Group, BPI is deeply involved in the discussion. We think there's much good about the Lathrop Plan, but also some crucial missing pieces.
What do we like about the Plan? It offers rental housing opportunities for residents with a mix of income levels. We like that the majority is low-income housing: 400 public housing and 212 affordable units, in addition to the 92 CHA elderly units to remain on site. The remaining 504 rental units will be "unrestricted" as to income (more on that below). The planned 492 CHA units (over 40%) are more than the "usual" one-third public housing found in a number of other CHA mixed-income sites. It is our view that the Lathrop community, already highly gentrified, can support this level of low-income housing.
We also like that the Plan takes some steps toward opening up the site and the riverfront to the surrounding community, and providing more through streets to weave Lathrop back into the neighborhood street grid. Although in our view it could go even further in this regard, the planners were faced with balancing the need to do so with concerns raised by historic preservation proponents.
So, what's missing? Three things. First, the Plan would reduce by 525 the number of public housing units in this "opportunity" neighborhood. That's why we have urged CHA to replace each of these "lost" public housing units in designated opportunity areas of Chicago's North Side. Doing so will require a clear and specific plan, and a firm commitment to carry it out from CHA. Fortunately, CHA has new tools with the potential to provide realistic ways to acquire opportunity area units. It may not be easy; developing public housing in North Side opportunity neighborhoods will take time, effort and community support. Even so, CHA should make it an important priority. In the midst of a severe affordable housing shortage, CHA's mixed income redevelopment effort should not exacerbate the problem.
Second, given the expensive housing surrounding Lathrop, we believe the planned rental units should include a substantial component of moderately priced housing for working families. The planned public and affordable housing will likely be restricted to families earning between 0% and 60% of the area median income (up to about $45,000 per year for a family of four). However, families earning 60% to 80% (even 100%) of median—working families of moderate means, including people like medical technicians, young teachers, and entry level firefighters —will not be able to afford the market rate housing currently available in the Lathrop neighborhood. Incorporating moderately priced housing in the Plan would make affordable housing available to more families and enable working families to remain in the neighborhood as their incomes rise and life circumstances change.
Third, the new Lathrop will have the best chance for success if it is home to a great public elementary school. For this, CHA needs to forge a strong working partnership with its sister agency, Chicago Public Schools, and make that great Lathrop public school a shared priority.
The Lathrop Plan, advanced by CHA and the Lathrop development team, provides a solid foundation upon which to build a thriving community. Addressing these three missing elements will help to ensure that the new Lathrop meets the needs of all its residents and their neighbors, and results in the vibrant community the Plan envisions.
Back To Blog