Get to Know Cara Hendrickson
In late February, BPI was thrilled to welcome Cara Hendrickson as our new Executive Director. Little did we know that less than one month later we would be forced to transform into an organization working from home, re-examining our work and how we do it.
This appointment represents a homecoming for Cara, who served on BPI's staff as a Skadden Fellow, with a focus on housing and education issues, and on our Board of Directors. We sat down (virtually!) with Cara for a conversation on how her previous experience has brought her to this moment and what she envisions for BPI as the organization looks ahead to its next fifty years.
————
Cara served as the Chief of the Illinois Attorney General's Public Interest Division from 2014 to 2019. In this role, she led the team of lawyers and staff that litigated and negotiated the Illinois Attorney General's Office consent decree with the Chicago Police Department. In her role as Public Interest Division Chief, Cara oversaw over 60 attorneys and staff who enforced the civil rights, disability rights, workplace rights, and antitrust laws, in addition to investigations and cases involving the False Claims Act, consumer fraud, energy issues, and compliance with state and federal laws and regulations.
An accomplished litigator, Cara has been a partner at Massey & Gail LLP, where she handled a variety of complex litigation matters and a partner at Hughes Socol Piers Resnick & Dym, Ltd., where she concentrated on constitutional and commercial litigation. She also served as a law clerk to the Honorable Ann Claire Williams, United States Court of Appeals for the Seventh Circuit (Ret). Cara is from Houston, Texas, and earned her BA from Northwestern University and JD from Harvard Law School.
What brought you back to BPI?
This is my dream job: the opportunity to return to an organization where I cut my teeth as a lawyer doing social justice work in Chicago, in order to help lead it into its next fifty years. BPI is a place of unbounded possibility, and I am both humbled and energized by our dedicated staff, Board, and stakeholders. I can't wait to work in partnership with all of them to further BPI's work in pursuing a just society.
How are you thinking differently about what it means to be an organization focused on social justice with all the changes brought about by COVID-19?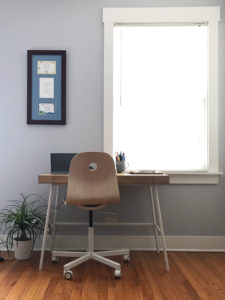 This global crisis is an inflection point for people and organizations committed to social justice. Among changes to so many aspects of our society, it has already exacerbated existing strains on housing security, created unprecedented stresses for our schools and our children, and led to deep concern about the safety and wellness of our justice-involved community members. It will cause us all to pause and think deeply about how we maintain our deep commitment to a just society for a long time to come.
What does it mean to be a leader when your team is experiencing so many changes in how they carry out the work of BPI?
In these times, I think it means, first and foremost, conveying our common humanity. I am working to be more intentional about many aspects of leadership, including taking the time to authentically listen. One thing I'm constantly considering is how I can help the staff see the big picture, while still being flexible and acknowledging that our landscape is in constant flux in real time. This means that I'm striving to find the right combination of challenging BPI staff to stretch to meet the challenges of the day, while nurturing our team beyond what's on our to-do lists.
While BPI is a place of deep resilience, we still must ensure we're supporting each other as humans and as advocates and allies committed to working in the public interest for the long haul.
What is your vision for BPI over the next five years?
As I think about our future, I want to ensure that we're staying relevant and meeting the needs of our community. Now more than ever, it's important that BPI continue to work at the forefront of emerging issues.
One constant in BPI's history is reinvention and change. The organization is adroit at assessing the most important issues of the day in order to determine the difference we can make now, while keeping an eye on the long-term outcomes for the communities we serve.
As we move forward, it's essential to foster a culture of innovation to ensure that we remain agile and effective, deepening our commitment to diversity, equity, and inclusion, and working with our community partners to instigate wholesale change to improve people's lives.
Finally, let's end on something a little lighter. What are the books on your nightstand?
Between conference calls (and there are many these days), I am reading Ijeoma Oluo's So You Want to Talk About Race; about a dozen lingering issues of The New Yorker; and Trenton Lee Stewart's The Mysterious Benedict Society and the Riddle of the Ages with my son.
Back To Blog