City Must Expand Powers of Inspectors General to Combat Chronic Corruption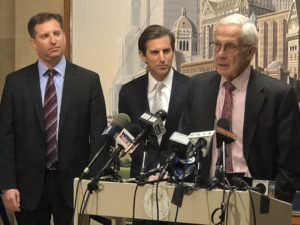 The Inspectors General (IGs) who police government ethics in Chicago lack crucial powers that limit their ability to check Chicago's culture of corruption and promote the long-stymied quest for governmental integrity, according to an analysis announced by BPI's Hoy McConnell and former Chicago Inspector General David Hoffman at a press conference on Thursday, April 11.
In an "open letter" to Mayor-Elect Lightfoot, BPI urges her to take the steps necessary to strengthen the oversight powers of Chicago's various inspectors general and make her campaign pledge to reform local government a reality.
BPI's three-part Blueprint for Reform is based on extensive research and consultation with inspectors general both in Chicago and elsewhere.
"With Mayor-Elect Lightfoot set to take office, the time is right to take a fresh look at Chicago's problematic inspector general system," said McConnell. "Many of its inspectors general lack independence, while others lack essential powers or are crippled by limited jurisdiction. If the crucial reforms are to be made, our new mayor will play a pivotal role in making them happen."
Standing with McConnell, Hoffman said, "Strong and independent Inspectors General help make governments cleaner, more fair, and more transparent. They protect our money from being wasted. They make it harder for those in power to use the levers of government for their own private interest rather than the public interest. And they make it easier for honest, hard-working employees to act ethically when improper pressures occur.
"We are fortunate that such an excellent Chicago institution as BPI has taken the time to study the details of the Chicago IG system and to produce a compelling report about how to improve it. Its recommendations are right on target and would unquestionably strengthen integrity in City government if they are implemented.
"We are also fortunate to have Lori Lightfoot as our Mayor-Elect. I have known her for over 20 years, from our time together in the U.S. Attorney's Office, and there is no one I would trust more to pursue a strong and effective reform agenda to enhance integrity and transparency in City government."
The press conference received coverage in the Chicago Sun-Times, Crain's Chicago Business, and on CBS 2 Chicago:
Click here to download the press release.
Back To Blog